Now that I've talked about what I got up to in 2022, it's time to look forward into 2023. I'm incredibly excited about my plans for 2023. There's quite a lot to come! Publication dates may shift a little, but I expect them to be fairly close to the following.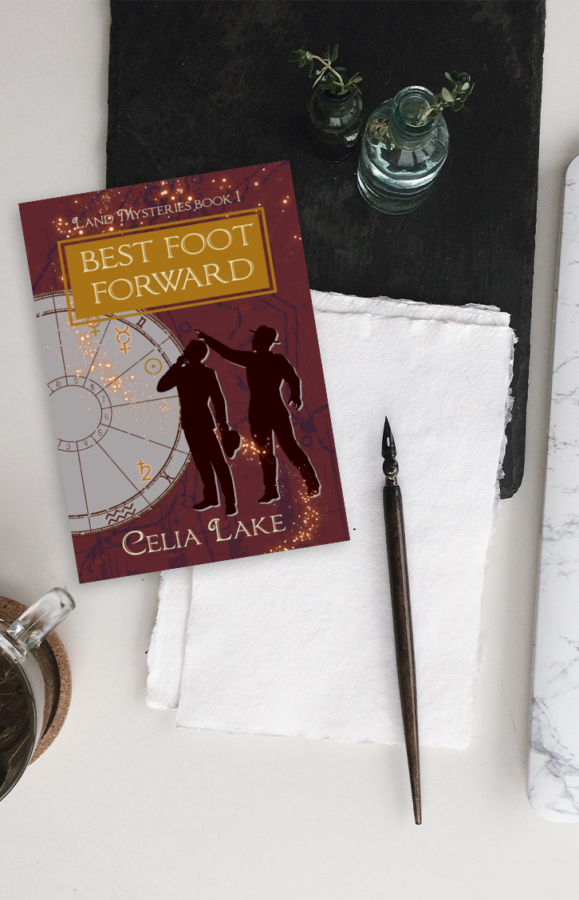 Coming out in 2023
This year, I'm alternating between a series of 1920s books (Mysterious Arts) and books dealing with the Second World War (the Land Mysteries series).
February 2023 : Bound for Perdition
It's the middle of the Great War in 1917. Lynet is a bookbinder, and she has been charged with creating magical journals to help the War effort. Reggie is newly invalided out, and trying to figure out where he can be helpful. When the project keeps accumulating challenges, they have to figure out what's going on and how to make some progress.
Bound for Perdition is the first book in the Mysterious Arts series. It includes a look at some of what Temple Carillon was up to during the Great War. Also has a brief cameo appearance from Geoffrey Carillon.
Late March or early April 2023: Nocturnal Quarry
A character-focused novella (not a romance) and second in the Land Mysteries series. This follows Alexander Landry on a trip through the east coast of the United States. It offers a bit of a resolution to the question of Theodore (from Best Foot Forward), an old enemy from Geoffrey Carillon's past. Also Alexander's own family history and a glimpse into the land magic of the United States.
I had a lot of fun writing a book that takes in Washington D.C.'s diplomatic culture, Brown University's splendid Egyptological collection, Boston, and a few glorious bits of New York City.
May 2023: Old As The Hills
The third book in the Land Mysteries series, Old As The Hills takes Gabe and Rathna through their own challenges in 1939 and 1940.
Happily married for nearly two decades now, Gabe and Rathna are both at the top of their fields and in the prime of their lives. When Gabe takes on a complex investigation into magical protections in Albion and Rathna makes plans for a risky chance for hope on the Continent, they both know they're risking their lives and their future together.
This is a novel focusing on an established happy marriage, and what it means to grow in a relationship together.
Late June 2023: Upon A Summer's Day
A Gabe-focused short novel (probably around 60K words) that picks up immediately after the epilogue of Old As The Hills as the fourth book in the Land Mysteries series.
Gabe has been asked a question, and he knows he must answer yes. The consequences of that choice will shake up the Council, Albion's upper echelons, and – with a bit of luck and skill – help Albion and Great Britain through the worst of the Blitz.
(Features Gabe, Rathna, Alexander, Geoffrey, Richard, and Alysoun as point of view characters. I am releasing these two quite close together. The end of Old As The Hills is as close to a cliffhanger as I've ever written, though it pauses in a sensible place.)
August 2023 : Shoemaker's Wife
It's 1920, and Owen has finally been demobbed. A shoemaker by trade, he returns to Trellech to figure out what his options are now. He doesn't have the resources to set up his own shop. He married Clara, his wife, in a rush while he was on leave during the War. Now they need to learn how to have a marriage. When he can't find work, he gets a job working for a theatre, getting drawn into their needs and problems. Clara, on the other hand, is not sure how to deal with a particular customer in the apothecary shop she runs for her aunt.
Learning how to have a marriage is a lot more than getting married. But if Clara and Owen can figure out their marriage, perhaps they stand a chance of tackling their other problems. The second book in the Mysterious Arts series.
November 2023: The Illusion of a Boar
The fifth book in the Land Mysteries series finds Lord Orion Sisley, Claudio Warren, Hypatia Ward, and Cammie Gates all thrown into working together to lure the German forces into thinking there's a invasion planned somewhere there absolutely isn't. It's challenging, risky, and stimulating work – in more ways than one!
(These four last appeared on the page as students during Eclipse and Chasing Legends. Orion and Claudio were particular charges of Isembard Fortier – and still close with him as adults. Hypatia is Ibis Ward's youngest sister, and Cammie is his step-daughter, but they're close in age and treat each other much more like siblings. Even now they're in their 30s. There will be a romance here!)
A word about the Land Mysteries series
I'd originally expected the Land Mysteries series to be three full-length relationship-focused novels (books 1, 3, and 5), 3 novellas that filled out events related to those novels (books 2, 4, and 6) and a school story. And then Upon A Summer's Day got longer than novella length….
I'm incredibly excited about the story being told through this series, and the way the land magic runs through it so deeply.
Besides the five books described above, I expect to write two more in 2023:
The Three Graces will be a novella set in the first half of 1945 involving Alysoun, Lizzie, and Thesan taking on a particular sort of intelligence challenge (and picking up a thread from Bound for Perdition, back in 1917.)
And finally, I have plans for a school story set in the 1946-1947 school year at Schola that doesn't have a title yet. It features Leo Fortier (Thesan and Isembard's younger son), Avigail Edgarton (who also makes an appearance in Old As The Hills, Gabe and Rathna's youngest daughter), Rosalba Carillon (Lizzie and Geoffrey's youngest daughter), and Jasper Pride (third child of four of Rufus and Ferry). It takes place as the various secret societies of Schola are scouting for members – and of course, there's a bit of a mystery to solve, too.
Also on the writing list
I'm hoping to write a novella of Gil and Magni's romance (starting in January, and finishing it as makes sense). As of December 30th, it has a title, even, Four Walls and a Heart. It involves Gil coming to grips with his injuries in the Sudan, Magni admitting his emotions, and a good dash of architectural magic.
February should find me writing The Illusion of a Boar.
Charlotte, Gabe's sister, has quite an interesting adventure in front of her, and I'm looking forward to writing her romance (set in 1923, just after Gabe and Rathna are married). Third in the Mysterious Arts series, it has a bit to do with magical perfumes and incense. I expect to start this one in May 2023.
In August, I'll start writing the school story.
And in November 2023, I look forward to writing a book about Griffin, who appears in Point By Point. This will explore the judicial magics of Albion and jewellery making as the fourth book in the Mysterious Arts series. Among other topics, of course.
Let's not forget about some extras…
Right now, I have substantial drafts of a number of extras, and I expect to produce a few more during the year. Things to come as I can get them edited and shared include:
Thesan and Isembard through the events of Best Foot Forward.
Benton, during Best Foot Forward. (Of course. We can't neglect Benton.)
Arthur and Melusina during the events of Carry On.
An increasing list of extras for Old As The Hills and Upon A Summer's Day.
I also have an ongoing substantial extra following Cyrus from 1932 through 1946. I'm also contemplating the structure of something about Silvia Warren. (Both of these have to wait on publication until I finish the Land Mysteries series. But here's a thing to look forward to!)