Alexander makes trips to a number of museums and libraries in the course of Nocturnal Quarry, some in more detail than others. One collection he spends a bit more time in is the Metropolitan Museum of Art's Egyptian collection.
There are a number of reasons for this – it's one of the preeminent collections of its type (for reasons good and complicated). From an authorial perspective, however, they have two great advantages. First, they have an excellently thorough website with information about many pieces in their collections. Second, they're quite generous about permissions for images (the ones here are all public domain, as noted on the relevant pages.)
As such, I thought it would be fun to put together a page with what Alexander's looking at throughout chapter 6. I've included images, along with the text descriptions and a bit more information. Links to the pages from the Metropolitan Museum of Art about these pieces are in the captions for each image.
As a bonus, one item he didn't get to look at. (Though the museum had possession of it at that point.)
Lapis Lazuli Heart
This amulet dates from 664-334 BCE. It's in the shape of the heart (and the seat of the soul, in ancient Egyptian theology). I love the elegant simplicity of the lines here, and I am always a fan of lapis lazuli.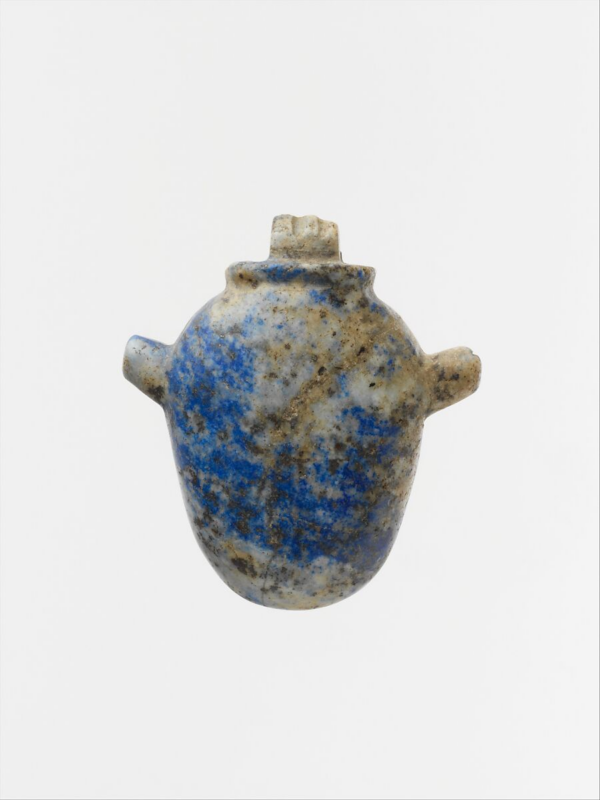 He paused first, by a small amulet, a lapis lazuli heart. It was deceptively simple, but there was something about the quality of the stone, the rituals that imbued it, that stood out to him. He knew a stone carver, or rather Mabyn did. Alexander wondered about having such a thing made for a holiday gift, layered with protection, for the network of friends he had somehow acquired. All of them could use protection and blessing, though admittedly some lived more dangerous lives than others.

Nocturnal Quarry, chapter 6
Faience Wedjat-eye amulet
Horus was often depicted in human form with the head of a falcon. There's a myth in which his eye is injured or stolen by Set, then restored by Djehuty (also known as Thoth). This form of the eye, the wedjat, is all about healing power and protection. It has elements of both a human eye and a falcon's. Very fitting as a present for Geoffrey, who is the Horus to Alexander's Set.
There are many more examples in the Met collection, go explore. This golden one is eye-catching (sorry, couldn't resist that pun) and the stylised decorations are lovely. This one is from 1090 to 900 BCE and about two inches across.
In another display case, he went by a particularly fine wedjat, the eye of Horus. He thought that might make a good gift for Geoffrey, if he could find someone to handle it. There was something about the vividness of the blue of the faience, and if he had a replica made, he could imbue the materials before and after it was formed. He spent some minutes sketching it.

Nocturnal Quarry, chapter 6
Ptah
Ptah was one of the three tutelary gods associated with Memphis. (For a bit more discussion about this as applies to Alexander and his family, see Best Foot Forward, chapter 15). He is the master craftsman of the gods, and seen by many as more approachable than other of the Netjer or Egyptian gods. He's often shown with a straight beard (rather than the curved divine beard common on many other deity statues), and the tight fitting cap seen here. I find something rather charming about his face, it's very much a human-made object.
Ten minutes later, he had spent some time communing with a somewhat unbalanced but charming Ptah, before turning into a new room.

Nocturnal Quarry, chapter 6
Sarcophagus of a Hathor priestess, Henhenet
Hathor is not a particular focus of Alexander's. But Ibis Ward (see Magician's Hoard, Chasing Legends, and chapter 15 of Best Foot Forward) is particularly devoted to Hathor or Hetheru. This sarcophagus comes from a priestess buried around 2051-2030 BCE, with inscriptions around two of three sides (the third was started but not finished). Henhenet, the priestess, was about twenty-one years old when she died in childbirth, according to study in 1923. (This likely explains why the inscriptions were unfinished.)
There, he found a sarcophagus of a priestess of Hathor, and so he spent some time copying down the prayers. Ibis would be interested, at the very least.

Nocturnal Quarry, chapter 6
And one extra: the Broad Collar of Wah
Alexander doesn't get to see this one, but I wanted to share it because it's so gorgeous. As the Met notes, it's one of the best examples of the type from the early Middle Kingdom, a beautifully orderly piece formed from faience beads. (And unlike many of these pieces, almost all of the stitches are the original, though they've done some reinforcement for preservation.) It was part of the items that Wah, the estate manage of Meketre was buried with. This comes from c. 1981-1975 BCE.
He doesn't get to see it because while the Met acquired it (as part of a division of items in the expedition of 1920), they didn't actually unwrap Wah's mummy until 1940, a couple of years after Nocturnal Quarry takes place.
(This is why I both bless and curse the level of provenance detail I can get from the Met's website…)