About the Book
Family brings out the best and worst in all of us.
Having survived tuberculosis, a family scandal, and a dangerous magical drink, Laura is ready for a quiet visit to a beautiful home on a remote island off the coast of Cornwall. She finally has a chance to meet more people near enough her age, and begin to build her own connections in the world. It's more than past time.
Galen knows his mother wants him to marry, and soon. Laura seems more promising than the other young women who have been invited to stay. But there are things in his family and in the house he doesn't understand. Even his best friend Martin's investigative skills as a journalist haven't helped. When one of the other house guests is murdered, Galen, Laura, and Martin have to work together to protect the innocent and make sure the murderer is caught. New alliances are forged, old bonds are renewed, and nothing is quite what it seems.
In The Cards is a standalone romance of 80,000 words with a happy ending (no cliffhangers). It is book 5 in the The Mysterious Charm series, which explores the magical community of the British Isles in the 1920s and can be read in any order.
Uncover the murderer and explore the twists of romance in the Isles of Scilly in 1925.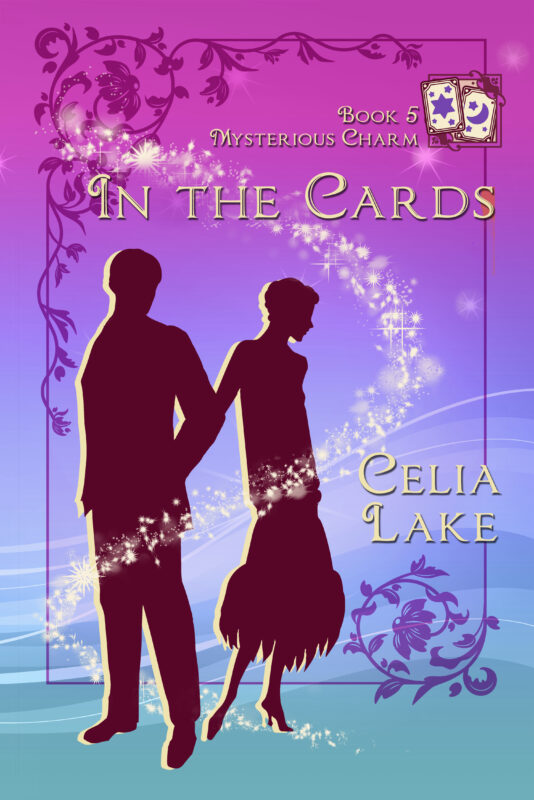 Family brings out the best and worst in all of us.
Laura has had a challenging few years, and now she's somewhat at loose ends, looking to rebuild her life. When she's invited to the Amberly's home on a remote island off Cornwall, it's a chance to relax after her sister's society wedding, and see what she thinks of the younger son, Galen. For his part, Galen is caught between family expectations and his own progressive interests, and he's not sure what to do. When someone else at the house party is murdered, Laura, Galen, and his best friend Martin have to work together to protect the innocent.
Order Now!
Other Books in "Mysterious Charm"
Disclosure of Material Connection: Some of the links in the page above are "affiliate links." This means if you click on the link and purchase the item, I will receive an affiliate commission. I am disclosing this in accordance with the Federal Trade Commission's
16 CFR, Part 255
: "Guides Concerning the Use of Endorsements and Testimonials in Advertising."