Fool's Gold has a slightly different origin than many of my story ideas. Kiya (my friend and editor) had been talking to a friend of theirs who loves a disaster elf. Kiya told me about that. And then promptly said I should do something more with Robin, I hadn't done a villain redeemed book yet.
Which, to be fair, is exactly what Robin is made for.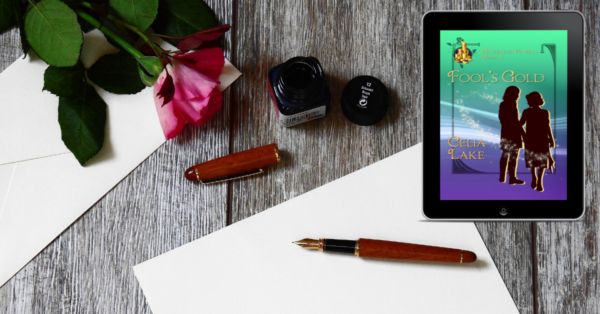 Villain redeemed
Robin turns up in two earlier books. He appears briefly in Wards of the Roses, wanting to get more involved with the research that begins at the end of that book. Kate isn't at all sure what she thinks of him, and Kate has good instincts. 
Here's how she describes him then:
Kate paused, then cleared her throat. "He did the thing where a man reaches to kiss your hand, a little click of his heels, the precise angle of the bow, and the – gleam in his eye. Not the sort who'd push you into a convenient dark corner for his own pleasure, but the sort who uses his charm to get what he wants."
And of course, if you've read Seven Sisters, Robin has definitely been up to no good, and with some potentially dangerous results. He's so bent on what he's searching for that he doesn't see anything else, or doesn't think about the consequences. 
The question with Fool's Gold was how to write a story where he could be an engaging protagonist and have a romance that was satisfying. That meant he had to grow up a little and get more honest about what he wants. Leaning into Robin's own skills of persuading people (and being a con artist himself at times) and what that meant when he was in a situation where he wanted to use them to help someone was lovely. Rolling around in Robin's love of colour and art was even more.
Cousins and Fool's Gold
Of course, the other thing that comes up here are the Cousins, the lines of families descended from the Seven Sisters, seven Fatae women who might or might not be deities, it's hard to tell. As Vivian says in response to Cadmus' question here, in Seven Sisters:
"That was a, do you call her a goddess?"

"I call her Grandmother Electra, so I don't have to think about that, mostly, actually." Then she continued. "You watching, it's not, I said this, it's not a dangerous thing. But it's an intimate one."
Fool's Gold gave me a chance to spend a lot more time with the Cousins, and with them being there on the page. (Robin's terrifying aunts, as well as Vivian and Robin himself.) I hope to dig into the Cousins a bit more in some future book, because their particular family traditions fascinate me. 
It's worth noting that there are more human-shaped Fatae in existence than just the Seven Sisters (you'll be seeing some of them in Old As The Hills, out in May 2023).
The Cousins downline from the Seven Sisters have tended to intermarry with humans more, and to build up a larger communal culture centered on particular kinds of magic (including the areas around particular portals). They're also generally more able to tolerate living in iron-rich spaces like modern cities, while other of the Fatae descendents tend to prefer more isolated homes. 
Banking and the custos dragons
I was not sure, until I got into the chapter where Emrys first appears, if the custos dragons talk. Clearly, they do, and the problem is more often getting them to shut up so you can get a word in edge wise. However, I'd been doing a lot of thinking about what a magical currency actually does.
The Scali (and the other banking families present in Albion, the Bardi and the Grindlay) all have large networks of trade with other banking families. The Scali and Bardi are off-shoots of historical Italian banking families in Florence. In real-world history, the Scali went abruptly bankrupt in 1326, due to a combination of factors, including Edward III not paying his loans. The Bardi hung on for about another twenty years, but then had the same problem.
However, it made sense to me that some portion of the family might have hung onto the magical banking aspect, and slowly rebuilt the rest of the banking after the Pact. 
A brief digression into the gold standard:
So what's that magical aspect? Goblin Fruit mentions that the actual metal of the coins hold magic, especially those that have travelled widely. Every so often, coins need to come back and spend a cycle or so under a dragon, who tends them, syphons off the magical energy that might get disruptive, and smooths everything out. 
This works out fine as long as we're working with a gold-backed currency system, but that's getting very shaky in the 1900s. (As Beatrice points out, Britain has been on and off the gold standard several times. I thought about trying to map out the timeline for that, and then decided that it was entirely too confusing to get into, and also Robin didn't care about the details.) However, that magical effect and needing to cycle the coins through is still necessary in the magical community. 
George
And of course, if there are dragons, they have to have some people to hang out with. George is named George for multiple reasons. I keep wanting to name minor characters George, you see. (I tried to do it with four different people in Outcrossing, and Kiya pointed out quite reasonably that this was confusing. Even if it was an incredibly common name for a couple of hundred years for men.) However, I promised that if I called this one George, I'd stop trying to do it elsewhere. That's worked quite well! And given the legends of St. George, naming the dragon-tender for him just amused me too much.
George is, as noted, also functionally a Cousin, though not descended from the Seven Sisters.
Does this intrigue? Check out Fool's Gold. (Though as always, you might want to read Seven Sisters, first to get the full arc of Robin.)