Today's installment of "Ideas to book" is all about Point By Point, which had a couple of interesting starting points. They include Galen needing his own book, Dick Francis, and the Dwellers at the Forge.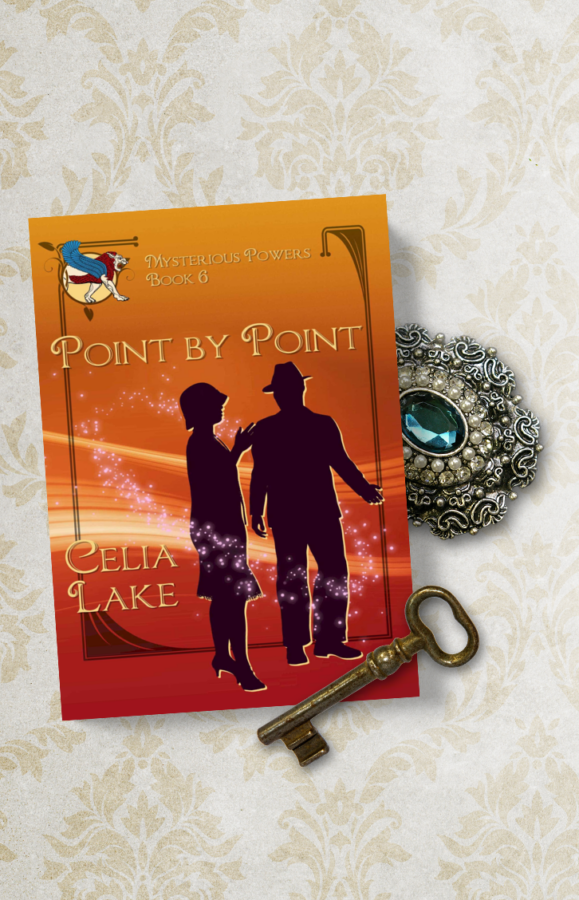 Galen needs a book
Galen – and his best friend Martin – appear first in In The Cards, my locked room murder mystery romance. (Every 1920s series needs a locked room murder, right? In this case, it's more like 'remote island', but same idea.) I loved Galen there, but Laura wasn't the right partner to bring out the best in him.
I also wanted to spend a bit more time with Galen's brother, Julius. Wounded by a permanent facial injury during the Great War, his parents originally brought him out to that remote island for privacy. But even there he was isolated from his brother. In the aftermath of the events of that book, Julius and Galen have set up in another of the family homes. They're joined by Blythe, formerly their mother's companion, but now very much Julius's partner both in alchemical work and romantically. 
Galen, for his part, is working hard to get the family business back on an even keel after some of his father's poor business decisions. It's kept him too busy to spend a lot of time with his friends. By the time the book starts, he's finally getting some traction.
Dwellers at the Forge
Galen's friends – and Martin's – of course are the Dwellers at the Forge, the secret society they both joined while at Schola. The Dwellers are a progressive, sometimes radical group, looking to shape themselves on Prometheus bringing fire to humankind. While they're got their share of rituals and traditions, a lot of what they do together either involves mutual support in thier various projects or assisting in larger social efforts. That can run from strikes to political protests and actions to getting down into the grunt work of taking care of people in need.
I do have plans to explore all seven of the Schola secret socities in more depth down the road (including another round with the Dwellers). I love exploring the ways people connect that are about shared goals, dreams, or aspirations, not purely friendship or romance.
Dick Francis
I was a horse-obsessed child and teenager. Of course I read all the Dick Francis novels that were out up through the late 90s. Dick Francis was an incredibly prolific author. (His wife Mary was a tremendous help. She handled a lot of the research from what they talked about in various interviews.) But he was, before that, a quite good jockey on British steeple chase tracks.
Almost all of his books had something to do with horse racing – sometimes it's absolutely central, sometimes it's more tangential. His experience gave those parts an absolute solidity. I love the immersion in a particular kind of live that Francis did so well. 
When I was casting around for a setting for this plot, I had wanted to do something with horse racing for a while. I spent a couple of months rereading a bunch of the Dick Francis books. I discovered they'd aged much better than I'd expected. (They're still books of their time, so there are things that didn't age well.)
But I discovered they're also much kinder than I remembered. What had stuck in my brain were the fast-moving plot aspects, the dangers and risks. But there's also quite a lot of Francis' protagonists wanting to help out, when they're caught in a weird situation, and going to some lengths to follow through. 
The plot ended up taking me on a tour through equine genetics. (Including things I half remembered from my time in 4-H and Pony Club). That went on into a side line of what the boxes at various race tracks looked like in the 1920s. And of course a few social settings for the fast set and a house party with unsettling moments. I do like a house party. 
Up to no good
The end of Magician's Hoard left a thread hanging: what was going on with the secret society or snake cult? I wanted to pick up that thread now the initial trials had happened. Who were these people, what were their actual goals, and how did the whole thing work? I won't spoil the details here, but I did spend quite a lot of time eyeing Mesopotamiam archaeology reports from the tail end of the Great War period (1918 through the early 1920s). 
Some people are entirely too tempted by power, and will do anything they can to claim it for themselves.
If these things intrigue, pick up a copy of Point By Point.