I got a great question from one of my early readers as he worked his way through Pastiche (coming soon to an ebook seller near you – likely August 7th or so.)
His question: "Where is Trellech? I'm not finding it on a map."
There's an excellent reason it's hard to find. Trellech does still exist as a village in our world but it's a tiny thing compared to what it once was. Also, in Welsh it's Tryleg, and in English, one of about four options: Trellech, Trelech, Treleck, or Trelleck.
Trellech is in Monmouthshire in Wales, northeast from Cardiff and just west of the river Wye. (Here's a map.)
It was one of the major cities of mediaeval Wales. Around the 1230s, the de Clare family established it as a major manufacturing town, producing iron and coal for munitions manufacture (as everyone of the period was deep in the wars between Wales and England).
The de Clares had been powers in that part of the world for some time – William de Clare established Tintern Abbey in 1131. (This fact brought to you largely because I've been to Tintern Abbey, and think it's gorgeous.) If you read much history around these centuries, you'll find the de Clares thoroughly entangled in it.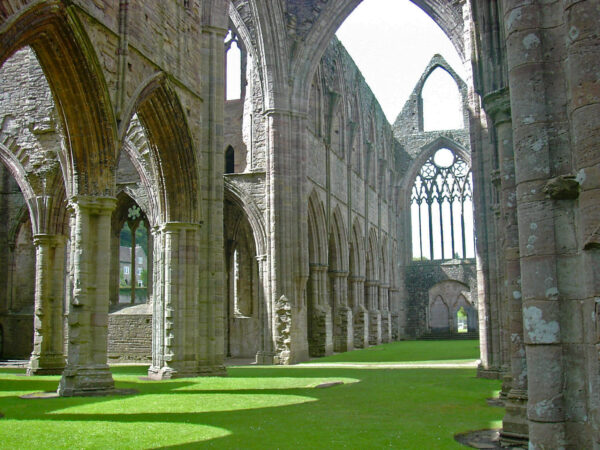 At its height in the late 1200s, it's thought Trellech had about 20,000 people in it, making it larger than Cardiff, Chepstow, or a number of other cities in England and Wales. (By 1300, London was about 80,000 people, to put that number in perspective.)
However, a raid in 1291, and then the calamities of the 1300s did the city in (multiple rounds of war, the Black Death, and raiding), as did the eventual fall of the de Clares who used it as their main base of power.
Much of the remaining city was destroyed by Owain Glyndŵr in the early 1400s, and the rest got largely lost to history.
When I started writing the Albion books, I knew I wanted to find somewhere which disappeared from the historical record around the time of the Pact in 1484 (give or take half a century), and I spent time looking at places that might suit.
I'm not Welsh by ancestry (alas), but I have longstanding fondness for Wales and the beauty and resilence of the country and people. My mother grew up elsewhere in the UK, but moved to Cardiff as a teenager, and went to university in Bangor (where she met my English father). I grew up on the stories of both those places, and the occasional childhood visit.
So, I was browsing online, considering options, and looking especially in Wales. Then I stumbled on a project from Stuart Wilson who bought a swath of land, hoping to discover the history of the early city. You can learn more about the subsequent archaeological work, too.
I've obviously taken quite a few liberties with Trellech's history in my books, but not nearly so many as I might, since there's so much rich history.
We'll be spending more time in Trellech in the upcoming Mysterious Power series, as the first book is set in the Temple of Healing in the heart of the city.
Do you have a question for me? Send me a note through the contact form (or one of the social media options) and I'm glad to see about answering it. I won't share spoilers, of course.