Complementary is a f/f novella in 1910, and it's full of art, forced proximity, and a dash of folklore.
Fundamentally, Complementary exists for two reasons. First, I wanted to spend a bit more time with Elizabeth Mason (who appears in several other books, notably Pastiche, The Fossil Door, and Old As The Hills.) Second, I knew people who were getting a collaborative project off the ground to feature f/f or sapphic romance, Kalikoi.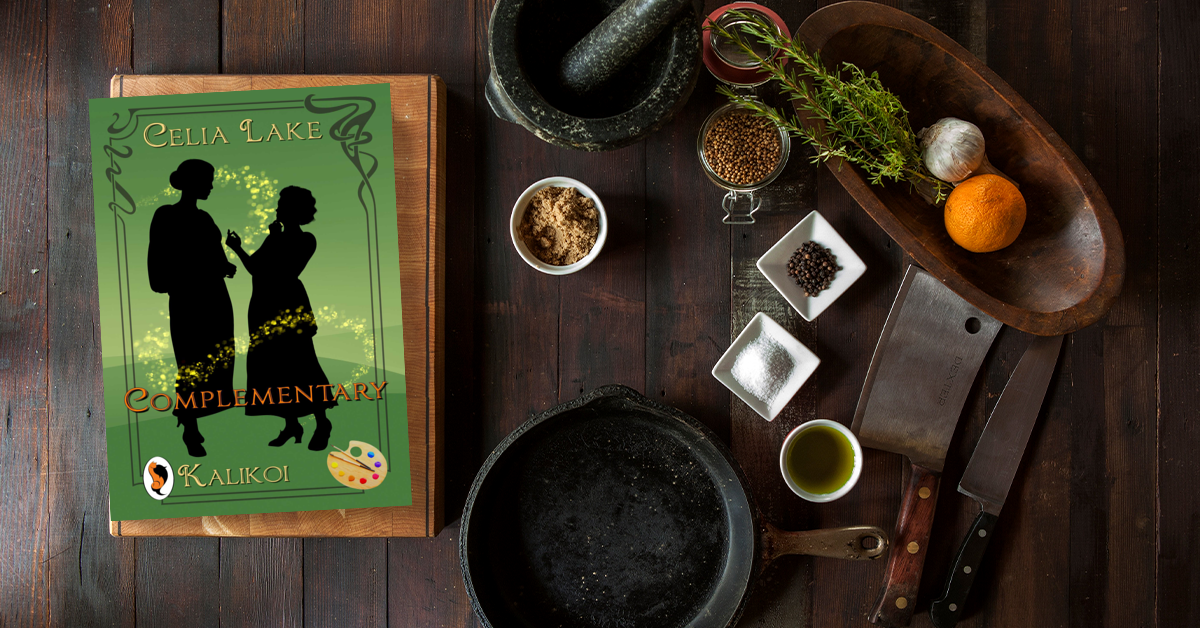 Elizabeth Mason
Mason – as she is widely known – and Witt are both Penelopes, a relatively small community of specialists who figure out what magical chaos has happened now and fix it (or at least get it stable). They're Albion's forensic scientist specialists, but they're also the people you call in when someone has done something troublesome in an alchemy lab or with one of those ritual methods that really, no one should mess with.
They were apprentices at the same time, and have worked together closely ever since, in the manner of people who can and do finish each other's sentences.
They're not the same, though. There's a theory out there – first put forward by forward by Dahilia Lithwick in 2012 that divides people and characters into Order Muppets and Chaos Muppets. (I should note that the original article discusses Supreme Court justices in the US in ways that have aged unevenly, shall we say.) 
This also applies to Penelopes. Mason is the Chaos Muppet of the two, and Witt is definitely the Order Muppet. On average, the Penelopes alternate when they do apprenticeships, though not entirely. (Lucy Doyle, who was Witt's favourite apprentice and Gabe's apprentice mistress is definitely also an Order Muppet.) Gabe, of course, is also a Chaos Muppet. Neither he nor Mason are precisely out of control, but they do definitely have unconventional solutions to a number of problems.
Anyway, I wanted to spend more time with Mason, and in her head. (Want more Witt? You can get a brief section from Witt's point of view in the extra "Three Times Told", that takes place after The Fossil Door. There are a few more bits from Witt's POV coming in extras for Upon A Summer's Day.) 
Mason is an artist who has a hobby of forging historical documents for fun and education. (How do you know how to detect them if you don't try making them yourself? I might also have been thinking of a particular episode of Leverage in there.) Complementary gives her a chance to show off her art skills as well as her investigation skills. 
I also had mentioned her partner Rosemary a few times, and I wanted to know how they got together. Rosemary is a midwife by profession, so keeps irregular hours and is also reasonably tolerant of Mason's habit of covering every flat surface with other objects.
Artist colonies
During the 19th and early 20th century, there were a huge number of artist colonies dotting scenic bits of the British Isles. Like the one in Complementary, they weren't always terribly well organised. Basically, you'd get a bunch of people together, some amount of shared resources to rent somewhere to live and manage some amount of food, and then everyone would go off and sketch and paint and whatever. It was usually the more portable arts, of course, especially if you were ending up somewhere more rural. 
One of the things that was appealing about writing about it is that you have a range of personalities thrown in together who might not otherwise have spent a ton of time with each other. Add a bit of a challenge to solve and it makes a great setting.
Folklore
Finally, I wanted to have some fun with folklore. That area of England turned out to have some delightful bits of folklore. King Onna, the barrow, the Black Shuck, and the Devil beating on the church of the door are all part of the ongoing lore and conversation. If you do a search on any of these and throw in the word "Southwold" or "Norfolk", you should dig up several versions.
(Though to be fair, it's hard to come across spots that don't have some sort of legend about large black dogs. They're as common as healing wells, you can't avoid coming across them regularly.)
The Deadman's Barrow is actually relatively close to Sutton Hoo, a famous Anglo-Saxon burial site of the 6th and 7th centuries that was first excavated in the 1930s. You may have seen the famous helmet or other items from the site.
If any of this intrigues, do check out Complementary, a novella of 35,000 words, just the right length for a pleasant treat.