About the Book
Can a chivalrous lord and his clear-sighted wife find love together?
As a child, Richard dreamed of knighthood and gallant deeds. As a grown man, he is committed to doing his best as an officer of the Guard, as a Lord of the land, and as a father. Living up to his oaths is easy. Being a good husband is much more of a challenge.
Alysoun has done everything expected of a woman in her position. She has married well and had two clever, healthy children. That's not enough. Richard is kind, but increasingly distant. Alysoun herself has pain and fatigue magic can't fix. In truth, she is isolated and more than a little bored.
When Alysoun visits a new museum exhibit, she sees something odd in one of the stained glass pieces. Investigating could bring her closer to Richard or at least give them something to talk about. But it might threaten his position or even his life.
Join Richard and Alysoun in 1906 as they explore a mystery, take on new oaths, and discover each other after years of marriage.
Pastiche is set in the Edwardian era of Albion, the magical community of England, Wales, and Scotland. It is a standalone story of an arranged marriage turning into a true love match.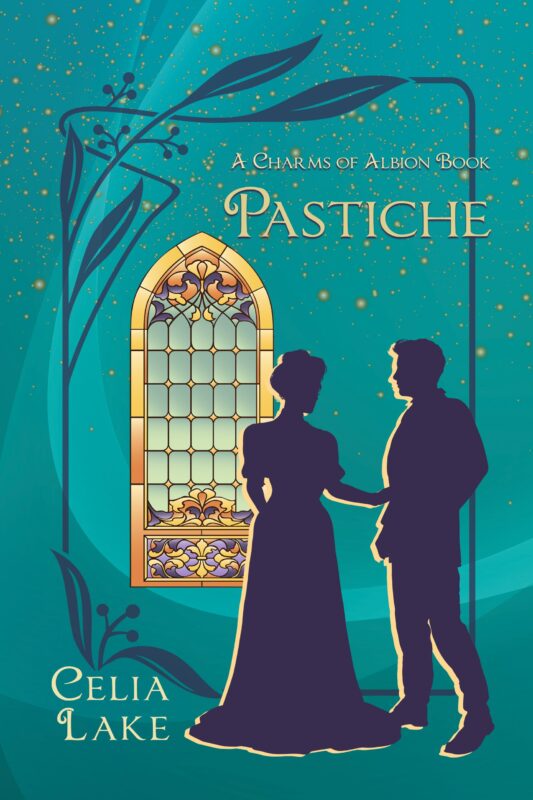 Can a chivalrous lord and his clear-sighted wife find love together?
An arranged marriage. A curious anomaly in a museum exhibit. New social commitments and obligations. Can Richard and Alysoun navigate the new challenges of their lives and come to love each other?
Order Now!
Other Books in "Charms of Albion"
Disclosure of Material Connection: Some of the links in the page above are "affiliate links." This means if you click on the link and purchase the item, I will receive an affiliate commission. I am disclosing this in accordance with the Federal Trade Commission's
16 CFR, Part 255
: "Guides Concerning the Use of Endorsements and Testimonials in Advertising."